SEO ( Search Engine Optimization )
In the present digital world, the theory of survival of the fittest holds good. If you own a website and you don't bother to optimize it, search engines will throw you out of its visibility. So, if you want to top the chart in Search Engine result Pages, contact Safa Consultancy services, the best SEO service provider in Bahrain. Our 100% ethical SEO services for Google, Yahoo and Bing search engines makes us the leading SEO service provider in Bahrain.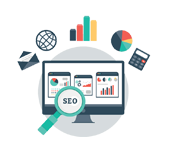 Organic SEO accounts to more than 70% of the total turnover of any online company. Safa consultancy services provide increased visibility, brand reputation and quality web traffic driven to your websites. Safa consultancy services which is the best Digital marketing company in Kuwait is equipped with a team of professional and experienced employees, who work towards delivering best of the best to the clients. Being the best internet marketing company in Kuwait, we do thorough competitor analysis and implement the best marketing techniques to the client's website. We offer a wide variety of quality ON-Page SEO services in Kuwait, which include, Meta Tag Analysis, Meta Tags Optimization, Keyword Optimization, Content Optimization, Site Map Creation and Submission, Web Content Marketing, Site Navigation Optimization. Our OFF-page SEO services in Kuwait include, Site submissions in Online Search Engines, Directory Submissions, Link Building, Keyword Analysis , Keyword Research, Website Traffic Analysis And Monitoring, Article Submissions, Competitor Analysis, Complete Site's SEO Analysis, Google, Bing Analytics and Webmaster monitoring.